<! Welcome table>
---
---
DISCOVERING A BUDDING BUDDHIST
When I was in Africa, June 98, I started this website, at that time it was a life review. Since then I have only made minor alterations but in August 2002 I attended a monastery for 2 weeks. In that time I decided to write my autobiography - a diary of a budding Buddhist.

---
---
MUSINGS ON JOURNEYS FROM SOUL TO MIND
Here is a sort of novel I was writing. It is not really complete and maybe will not change from here, but it seemed appropriate to put it up when I was revamping the site.



<!>
---
SPIRITUALITY
I have always described my journey in life as spiritual. Along the way I have come upon dfferent things and they are desribed here. Much of this is unlikely to change as my spiritual journey is now a journey deeper into Buddhism.



---
Wai Zandtao - Science-fiction Writer
When younger I learnt through writing science-fiction, I even hoped it would sell. Now it is here for your consideration:-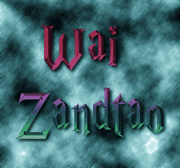 ---
EDUCATION
Education is an important part of my life, click on the Education buttion if you want to look at this.

---
<!> <!footer>
| | | | | | | | | | |
| --- | --- | --- | --- | --- | --- | --- | --- | --- | --- |
| | | | | | | | | | |